Computer Games For Children With Disabilities
Nanogames are designed for players with a very wide range of abilities. This enables a child with a disability to play and win a wide range of logic, arcade, educational and puzzle games. They can even compete with their parents, friends and siblings on the same game (the parent, child or sibling can play at full speed while the child with a disability can play with customized settings to match their ability).
Flexibility Over A Large Range of Games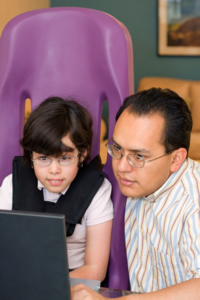 If you are looking for a range of flexible games, that can be adjusted to match the ability of almost any player, regardless of ability (or disability), then welcome to Nanogames.
Game speeds can be reduced by up to 90%
Time limits can be increased by up to 1500%
Simplify the games to reduce their complexity
Large game objects for players with Low Vision
Play using keyboard, mouse, or joystick
Built-in support for alternative access methods like single switch and touch screens
Example: video of one of our games
For Apple Mac and Windows (XP, Vista, 7, 8 10)
The Quick Start guide for each game is available here.

Customer Feedback
I am just writing to say "THANK YOU" for a wonderful product. My 11-year old son has no diagnosis but has cerebal palsy-like symptoms. He is deaf with a cochlear implant, non-verbal but uses an ACC, has low muscle tone and uses a power wheelchair or walker, therefore his "independent" play options are limited....He absolutely LOVES these games! He will sit and play them for hours if I let him and he engages his 10-year old brother to help him play the ones he can't access with his joystick (crazy taxi, silly sandwich, etc.). Thank you so much for designing these. - Melissa, USA
"...we have many young and adult switch users who will totally benefit from your software. Just being able to play a game competitively with siblings and/or friends is so cool."
Gabriel Laigo
Assistive Technology Day Camp Provail.org
Seattle, Washington
"I just wanted to let you know that I will be using these games to assist with switch selection for a variety of the students I come in contact with as an Assistive Technology Specialist with Mobile County Public Schools. I am really excited to have these games as I serve a variety of ages, grades, and exceptionalities."
Jeanette Morgan
M Ed Homebound/Hospital Teacher
Assistive Technology Specialist
Mobile County Public School System
Alabama, USA
---
Here are just some of the games
{module_contentholder,29190}